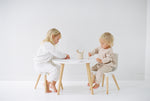 Wrapped in beautiful, colourable illustrations by Sarah Lane, our packaging is created to first be multi-purpose (use the 5 free minutes while your kids colouring our paper to grab yourself a tea!) but most importantly all of our paper packaging material is recyclable. 
Wrapping paper, sticker, thank-you card, and hangtags from the garments - all recyclable so please don't throw them in the garbage. 
BONUS: our thank you card can double as a piece of art! Frame it as it or add some colouring to it and voila, new art on the wall.